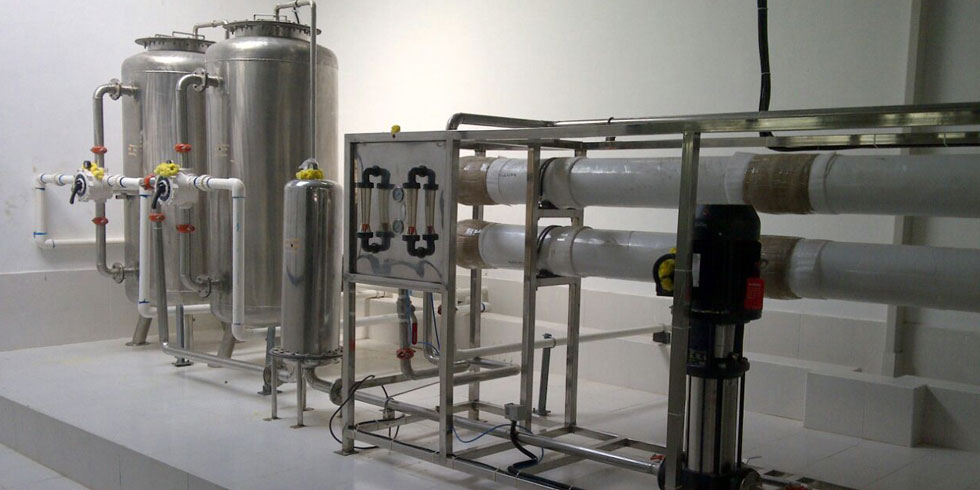 Reverse Osmosis (RO) is a process of physical separation of dissolved solids and minerals present in water. This technology uses the principle of osmosis, wherein the mineral concentration of raw water is reduced by applying high pressure through a semi-permeable membrane.
Understanding Reverse Osmosis
Reverse Osmosis, commonly referred to as RO, is a process of physical separation of dissolved solids and minerals present in water by pushing it under pressure through a semi-permeable Reverse Osmosis Membrane.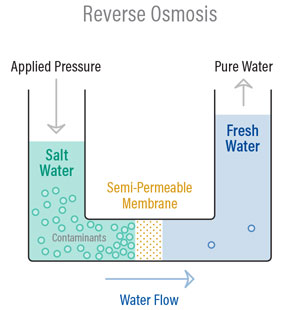 How does Reverse Osmosis work?
Reverse Osmosis works by using a high pressure pump to increase the pressure on the salt side of the RO and force the water across the semi-permeable RO membrane, leaving almost all (around 95% to 99%) of dissolved salts behind in the reject stream. The amount of pressure required depends on the salt concentration of the feed water. The more concentrated the feed water, the more pressure is required to overcome the osmotic pressure.
The desalinated water that is demineralized or deionized, is called permeate (or product) water. The water stream that carries the concentrated contaminants that did not pass through the RO membrane is called the reject (or concentrate) stream.
As the feed water enters the RO membrane under pressure (enough pressure to overcome osmotic pressure) the water molecules pass through the semi-permeable membrane and the salts and other contaminants are not allowed to pass and are discharged through the reject stream (also known as the concentrate or brine stream), which goes to drain or can be fed back into the feed water supply in some circumstances to be recycled through the RO system to save water. The water that makes it through the RO membrane is called permeate or product water and usually has around 95% to 99% of the dissolved salts removed from it.
It is important to understand that an RO system employs cross filtration rather than standard filtration where the contaminants are collected within the filter media. With cross filtration, the solution passes through the filter, or crosses the filter, with two outlets: the filtered water goes one way and the contaminated water goes another way. To avoid build up of contaminants, cross flow filtration allows water to sweep away contaminant build up and also allow enough turbulence to keep the membrane surface clean.
What contaminants will Reverse Osmosis remove from water?
Reverse Osmosis is capable of removing up to 99%+ of the dissolved salts (ions), particles, colloids, organics, bacteria and pyrogens from the feed water (although an RO system should not be relied upon to remove 100% of bacteria and viruses). An RO membrane rejects contaminants based on their size and charge. Any contaminant that has a molecular weight greater than 200 is likely rejected by a properly running RO system (for comparison a water molecule has a MW of 18). Likewise, the greater the ionic charge of the contaminant, the more likely it will be unable to pass through the RO membrane. For example, a sodium ion has only one charge (monovalent) and is not rejected by the RO membrane as well as calcium for example, which has two charges. Likewise, this is why an RO system does not remove gases such as CO2 very well because they are not highly ionized (charged) while in solution and have a very low molecular weight. Because an RO system does not remove gases, the permeate water can have a slightly lower than normal pH level depending on CO2 levels in the feed water as the CO2 is converted to carbonic acid.
Reverse Osmosis is very effective in treating brackish, surface and ground water for both large and small flows applications. Some examples of industries that use RO water include pharmaceutical, boiler feed water, food and beverage, metal finishing and semiconductor manufacturing to name a few.
Reverse Osmosis Performance & Design Calculations
There are a handful of calculations that are used to judge the performance of an RO system and also for design considerations. An RO system has instrumentation that displays quality, flow, pressure and sometimes other data like temperature or hours of operation. In order to accurately measure the performance of an RO system you need the following operation parameters at a minimum:
Feed pressure
Permeate pressure
Concentrate pressure
Feed conductivity
Permeate conductivity
Feed flow
Permeate flow
Temperature
RO Pretreatment
Proper pretreatment using both mechanical and chemical treatments is critical for an RO system to prevent fouling, scaling and costly premature RO membrane failure and frequent cleaning requirements. Below is a summary of common problems an RO system experiences due to lack of proper pretreatment.
FOULING
SCALING
CHEMICAL ATTACK
PRETREATMENT SOLUTIONS
Below are some pretreatment solutions for RO systems that can help minimize fouling, scaling and chemical attack.
MULTI MEDIA FILTRATION (MMF)
A Multi-Media Filter is used to help prevent fouling of an RO system. A Multi-Media Filter typically contains three layers of media consisting of anthracite coal (Activated Carbon) , sand and garnet, with a supporting layer of gravel at the bottom. These are the medias of choice because of the differences in size and density. The larger (but lighter) anthracite coal will be on top and the heavier (but smaller) garnet will remain on the bottom. The filter media arrangement allows the largest dirt particles to be removed near the top of the media bed with the smaller dirt particles being retained deeper and deeper in the media. This allows the entire bed to act as a filter allowing much longer filter run times between backwash and more efficient particulate removal.
A well-operated Multi-Media Filter can remove particulates down to 30-150 microns Depending upon the Media size Being used.
MICROFILTRATION (MF)
Microfiltration (MF) is effective in removing colloidal and bacteria matter and has a pore size of only 0.1-10µm. Microfiltration is helpful in reducing the fouling potential for an RO unit. Membrane configuration can vary between manufacturers, but the "hollow fiber" type is the most commonly used. Typically, the water is pumped from the outside of the fibers, and the clean water is collected from the inside of the fibers. Microfiltration membranes used in potable water applications usually operate in "dead-end" flow. In dead-end flow, all of the water fed to the membrane is filtered through the membrane. A filter cake that must be periodically backwashed from the membrane surface forms. Recovery rates are normally greater than 90 percent on feed water sources which have fairly high quality and low turbidity feeds.
ANTISCALANTS AND SCALE INHIBITORS
Antiscalants and scale inhibitors, as their name suggests, are chemicals that can be added to feed water before an RO unit to help reduce the scaling potential of the feed water. Antiscalants and scale inhibitors increase the solubility limits of troublesome inorganic compounds. By increasing the solubility limits, you are able to concentrate the salts further than otherwise would be possible and therefore achieve a higher recovery rate and run at a higher concentration factor. Antiscalants and scale inhibitors work by interfering with scale formation and crystal growth. The choice of antiscalant or scale inhibitor to use and the correct dosage depends on the feed water chemistry and RO system design.
SOFTENING BY ION EXCHANGE PROCESS
A water softener can be used to help prevent scaling in an RO system by exchanging scale forming ions with non scale forming ions. As with a MMF unit, it is important to have a 5 micron cartridge filter placed directly after the water softener in the event that the under drains of the softener fail.
GRANULAR ACTIVATED CARBON (GAC)
GAC is used for both removing organic constituents and residual disinfectants (such as chlorine and chloramines) from water. GAC media is made from coal, nutshells or wood. Activated carbon removes residual chlorine and chloramines by a chemical reaction that involves a transfer of electrons from the surface of the GAC to the residual chlorine or chloramines. The chlorine or chloramines ends up as a chloride ion that is no longer an oxidizer.
RO MEMBRANE CLEANING
RO membranes will inevitably require periodic cleaning, anywhere from 1 to 4 times a year depending on the feed water quality. As a general rule, if the normalized pressure drop or the normalized salt passage has increased by 15%, then it is time to clean the RO membranes. If the normalized permeate flow has decreased by 15% then it is also time to clean the RO membranes. You can either clean the RO membranes in place or have them removed from the RO system and cleaned off site by a service company that specializes in this service.
SUMMARY
Reverse Osmosis is an effective and proven technology to produce water that is suitable for many industrial applications that require demineralized or deionized water. Further post treatment after the RO system such as mixed bed deionization can increase the quality of the RO permeate and make it suitable for the most demanding applications. Proper pretreatment and monitoring of an RO system is crucial to preventing costly repairs and unscheduled maintenance. With the correct system design, maintenance program, and experienced service support, your RO system should provide many years of high purity water.
APPLICATIONS
Hotels, Restaurants and Houses
Drinking Water industries
Medical laboratories
Electronic Industries
Packaged drinking water
Industrial processing and wherever pure water is required for process.